Dedicated to Ruth Bader Ginsburg
Before long, and without intending it, I found that jewelry had become part of my personal diplomatic arsenal. Former President George H.W. Bush had been known for saying "Read my lips." I began urging colleagues and reporters to "Read my pins."
— Madeleine Albright, Read my Pins: Stories from a Diplomat's Jewel Box
Salon 94 and Salon 94 Design announce "We the People," a project featuring handmade brass election pins and other accessories by Kara Hamilton with all proceeds to FairVote and Earthjustice Action.
Hamilton created both unique and editioned pins using the lost-wax process whereby a wax model is created and then cast in a metal alloy. While the editioned pieces use a mold to make multiple wax models, the unique works are only cast once.
For a collaborative poster campaign, Hamilton asked artist and friend Katy Grannan, known for her empowered portraits, to meet in Newburgh, New York, the site of George Washington's headquarters during the final year of the Revolutionary War. There, they staged photographs of what Hamilton describes as "real people wearing flashy, charged pins." The artists friendship, dialogue, and collaboration add further layers and weight to their message.
Hamilton's solid brass pins range from the clear and undeniable titled: Crying Eagle or Melting Liberty, to the more opaque and personal titles: WeaponEyes or Bleeding Heart Love. The pins have in common a strong, willful, and durable presence. As Hamilton notes, these pins "can act as both armour and amulet, offering protection while admitting vulnerability."
Hamilton refers to her work as "critical decoration." In repurposing salvaged metals into jewelry and sculpture, Hamilton is invested in critiquing received notions of beauty and where value lies in fine art and design. For this project, Hamilton takes the election pin, characteristically flimsy, itinerant, and mass produced, and has fashioned weighty, enduring objects that correspond with the hefty choices each of us face in November. In "We the People," Hamilton and Grannan issue a call to reclaim and preserve our democracy. They dare us to wear these objects and speak up for our country, our collective values, without apology.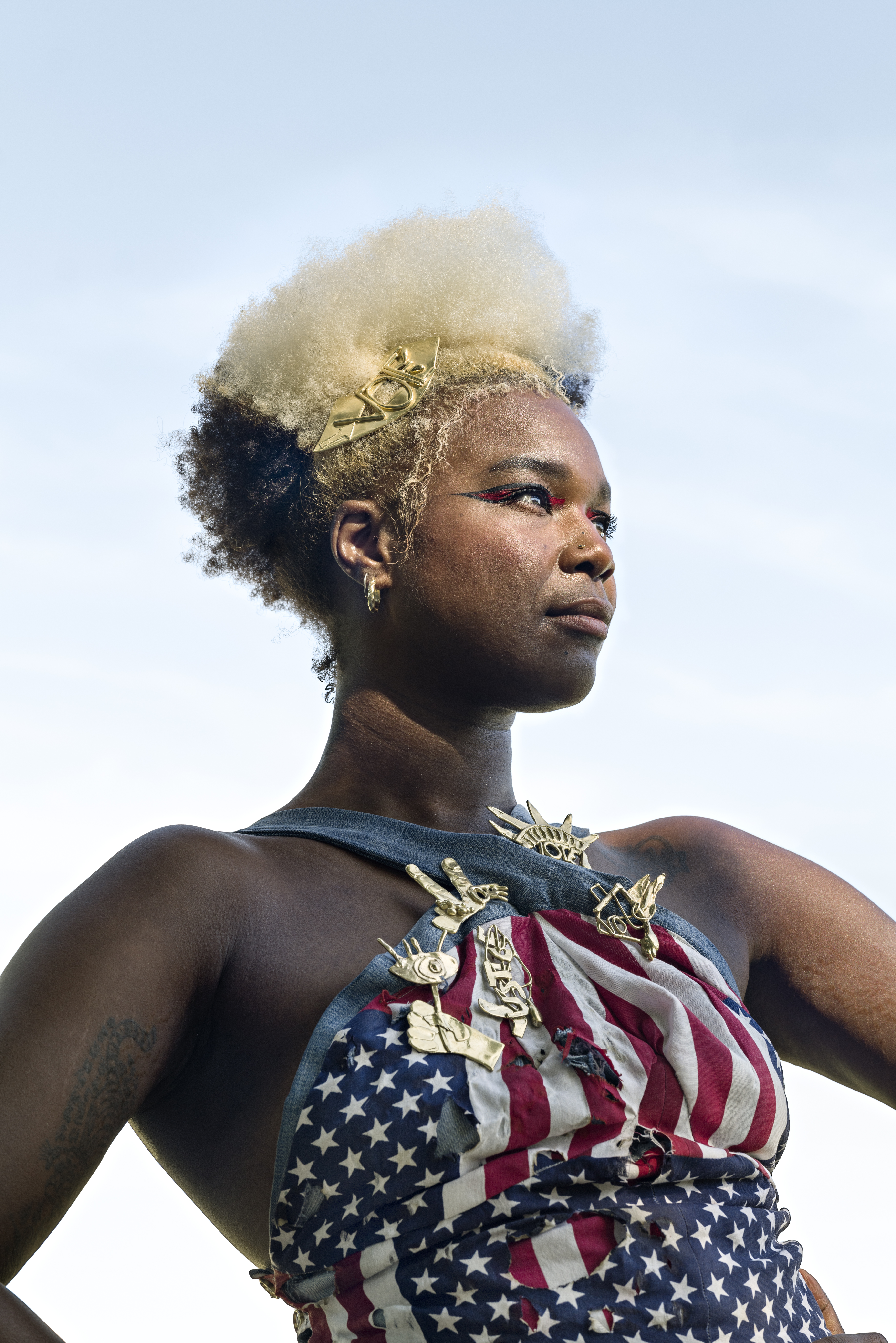 26 unique election pins/pendants accented with 'medal' ribbon and 10 pins in editions of 20 by Kara Hamilton packaged in a Salon 94 Design "We the People" canvas bag with prices ranging from $150 - $2,400.
1 editioned print by Katy Grannan
.

Kara Hamilton

Kara Hamilton received her BFA from Concordia University in 1989, her Bachelor of Architecture from the University of British Columbia in 1993, and her MFA from Yale University in 1999. She has exhibited nationally and internationally at spaces such as Plug In Institute of Contemporary Art, Winnipeg (2017); EFA Project Space, New York (2016); Tate Liverpool, Liverpool (2015); Aspen Museum, Aspen (2015) Kunstverein Amsterdam, Amsterdam (2014); Taut and Tame, Berlin (2013); Salon 94, New York (2003, 2007, 2011, 2012); and the Contemporary Arts Center, Cincinnati, OH (2004). In 2019, she had a solo exhibition at the Art Gallery of Ontario entitled Water in Two Colours. Hamilton is also the co-director of Kunstverein Toronto. She lives and works in Toronto, Ontario, Canada and is represented by Cooper Cole.


Katy Grannan

Katy Grannan (born in Arlington, Massachusetts) received her BA from the University of Pennsylvania and an MFA from Yale University School of Art. Her work is included in many private and public collections and publications. Monographs include Model American, The Westerns, Boulevard, The Ninety Nine and The Nine. In 2016, Grannan released her first feature film, The Nine.


FairVote
: As Americans, we expect our voices to be heard, our views to be respected, and our votes to truly count. Too often gridlock, low turnout elections, and increased polarization are preventing American democracy from living up to the expectations of its citizens. It's easy to see that something is broken in American politics. It's harder to figure out why – or how to move forward. We examine some of the most pressing problems in American democracy and discuss ways to address these issues.
FairVote.org
// ︎
@fairvote
Earthjustice Action
: Our work seeks to overcome attacks on the bedrock environmental laws that preserve communities and ecosystems — and to fight for policies that prioritize justice for the people and the planet we inhabit. We fight in Congress to stop these attacks and preserve access to the courts for all — especially those who stand for social justice and our environment. Earthjustice Action is defending our environment and communities against a litany of attacks by bringing grassroots pressure to bear on those who we seek to influence, by phone banking, running advocacy advertising, and bringing the real-world voices of those affected by environmental degradation and climate change to Washington, D.C., for advocacy efforts. Please note: contributions to Earthjustice Action are not tax deductible.
Earthjusticeaction.org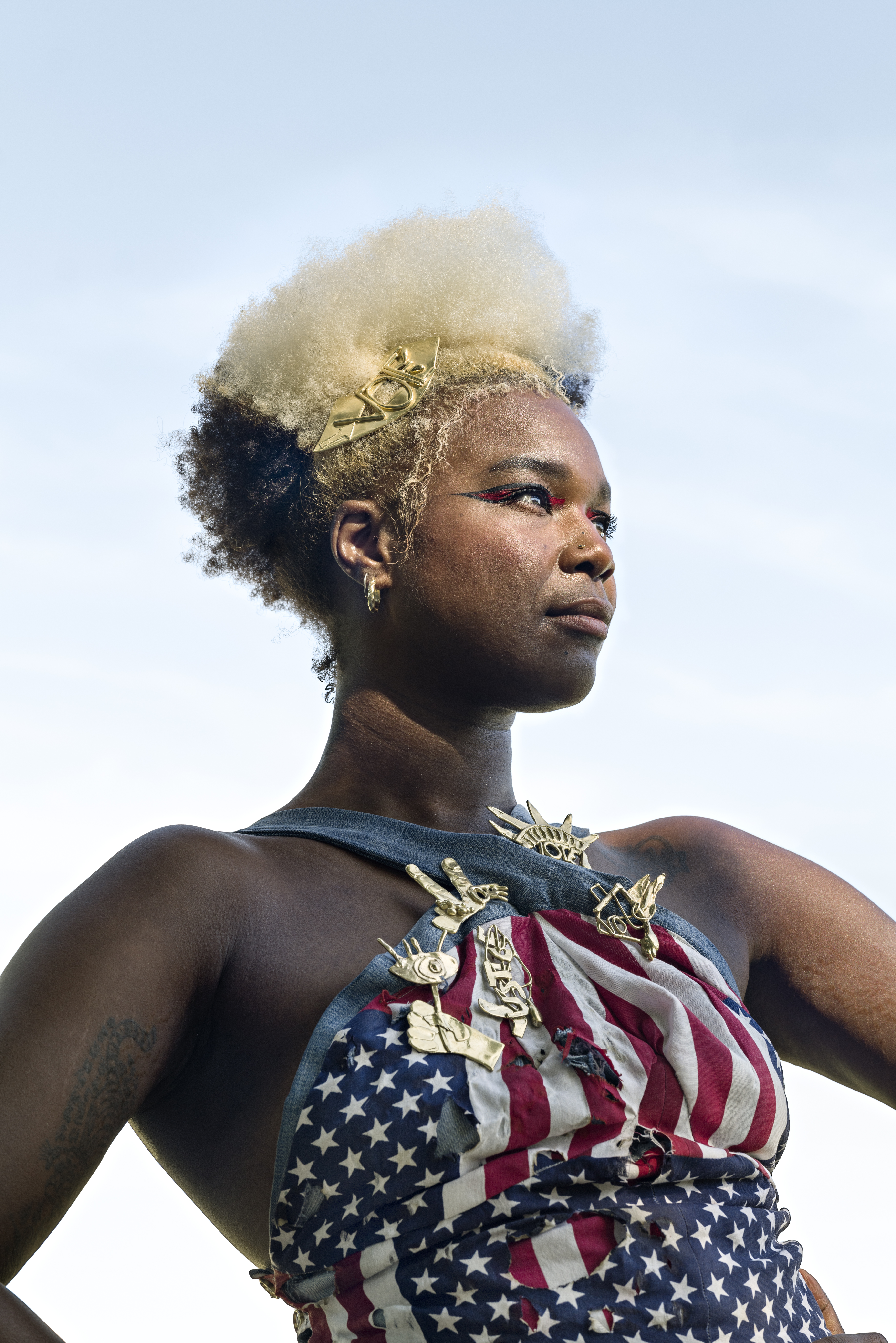 Special thanks to:
Katy and friends; Zack Pospieszynski, still photography; Daniel Giordano, model (own clothes); José Martinez and Ricardo Ramos, models (own clothes); Caitlyn St.John, model (shirt CSJ Designs); Pete Florentini, logo design